WHY SHOULD I HAVE AN IDEA OF THE CONTENT I WANT TO DISPLAY BEFORE CHOOSING A THEME FOR MY WEBSITE?
Content is key for any website. It's important that the theme you choose include formatting styles that will work with the content you have envisioned for the site so lets look at some website ideas.
WHERE CAN I FIND INSPIRATION?
There are many websites that can help you generate content ideas for your webpage. One of my favorites is Pinterest.
You may already know what type of content you'd like to feature on your webpage, however, if you do need some help, recommend heading over to pinterest.com and signing up (it's quick to get started and it's free). You can use the search box to discover valuable content that other users have found and 'pinned' about all kinds of topics.
Once you've logged into your Pinterest account, you'll see a search box on the top left side of the screen. If you type 'birthday ideas' into the search box, you'll see a drop down list appear with other related suggestions (similar to Google).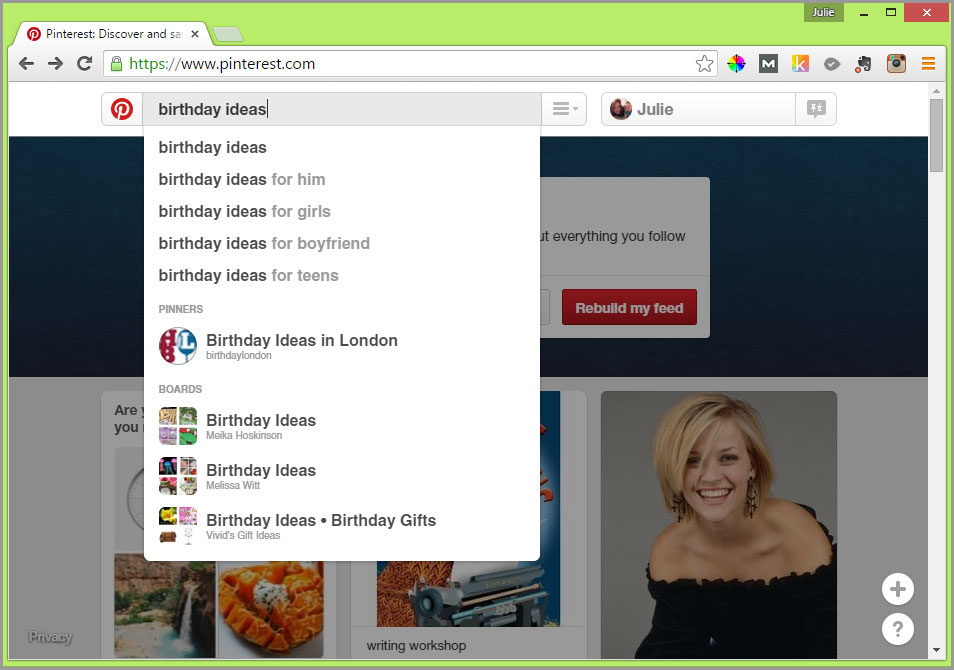 I selected 'birthday ideas' and was presented with the following screen: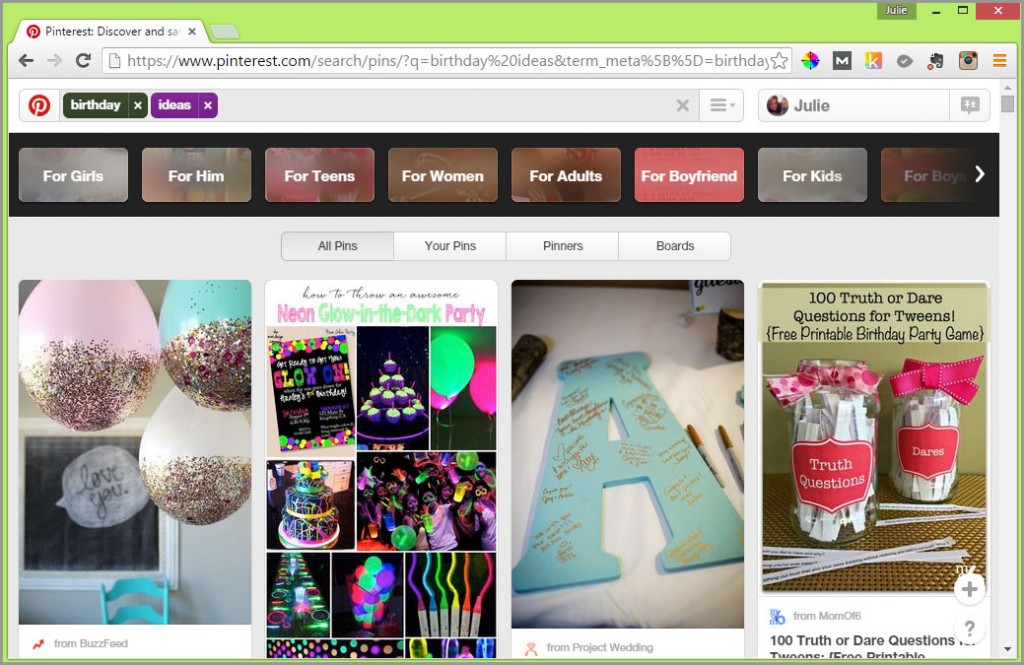 You'll notice that the original search term has been split into two separate keyword buttons at the top of the page, to the right of the Pinterest logo. If you were to click the 'x' on any of these it would remove that keyword from the equation and produce a different set of results (or 'pins'). The row of buttons underneath the keywords provide additional niche options applicable to the original search term. When you select one of these terms, it moves up to the keyword row and a new series of pins are displayed.
The birthday website example I'm going to create to have you follow along with is going to be for my Mom as hers is the next family member's birthday approaching in the calendar. So given this, I've scrolled through the optional keywords listed across the top and selected "For Mom".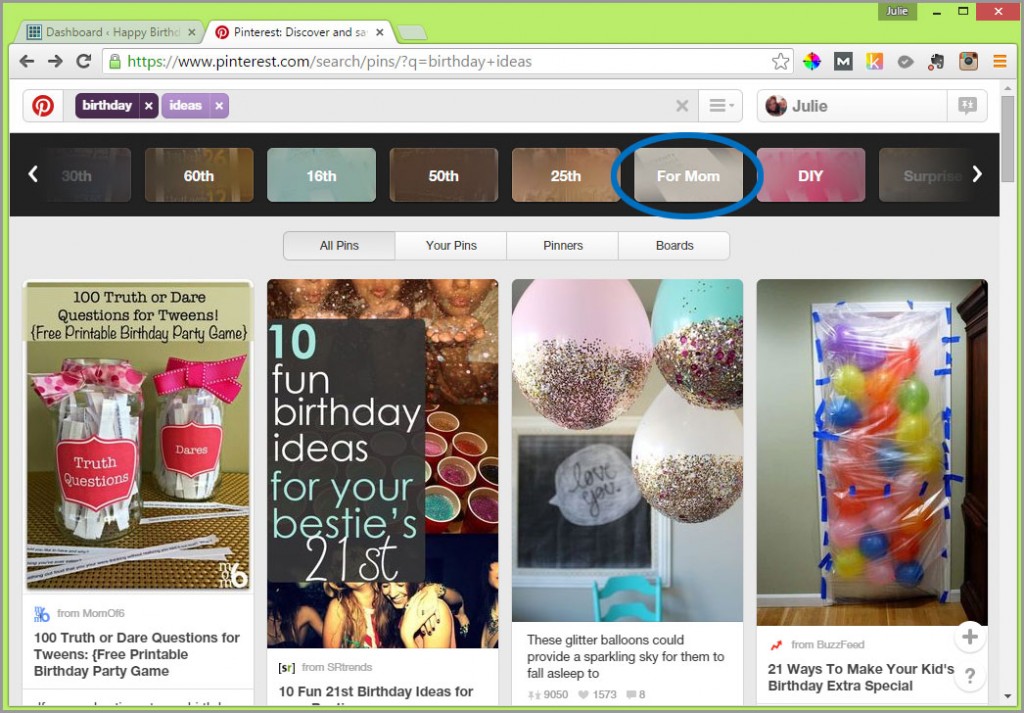 The pins presented to me now look like this: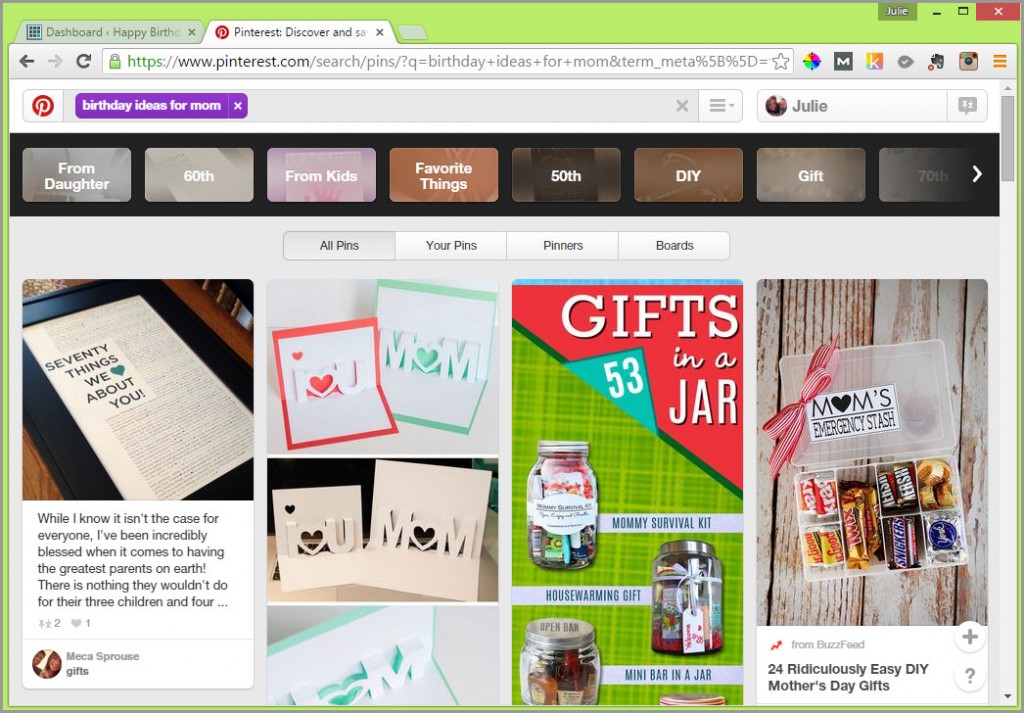 You'll notice that the separate keywords have changed and become a keyword phrase, "birthday ideas for mom". I'm already inspired by the first pin that says "SEVENTY THINGS WE LOVE ABOUT YOU!". My mother is turning 75 this year, so I could change the number to be "SEVENTY-FIVE THINGS WE LOVE ABOUT YOU!" and make a webpage based solely around this idea. Family and friends could contribute a short message that reflects something they love about my Mom, along with their picture.
My personal contribution might be something along the lines of "One of the things I love about my Mom is… she dropped everything to fly out and help care for my son through heart surgery and a long recovery period. She is always there when I need her to be". Endearments that are personal and illustrate how much the recipient is loved and appreciated.
If I scroll further down the pins I come to one titled "A book of memories for a milestone birthday". Again, with the collaborative assistance of family and friends, I could collect 75 memories along with photographs that help connect Mom to those special shared moments.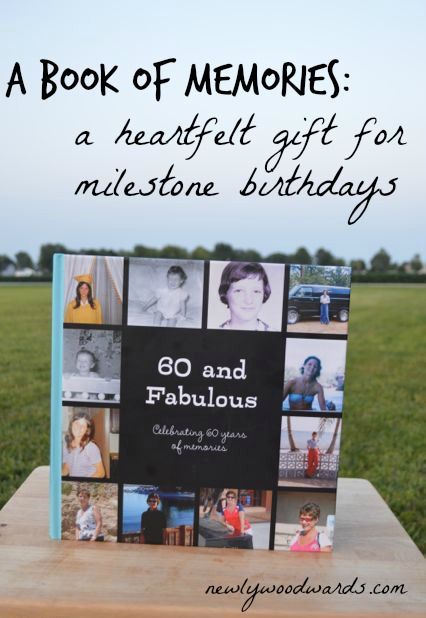 (https://www.pinterest.com/pin/566468459355625820/)

Search for inspirational website ideas.
THE BEGINNINGS OF A DIGITAL ONLINE SCRAPBOOK
Content should be catered to the individual. My son is 3 at the time of this writing. When I was pregnant with him I was beyond excited (my first child) so I went out and purchased three different baby books. These books have been sitting on a shelf for three plus years collecting dust. In part, the reason for the neglect is that my son has special needs and as a result, a lot of the typical milestone content of these journals just isn't applicable to him.
I have a box that I throw mementos in, but there never seem to be enough hours in a day to keep up with physical scrapbooks and the labor they entail. Frankly, I don't know where my Mom found the time to put ours together. Sadly, after pouring all that love into them so we would have keepsakes, they ended up in storage in a box and covered in mold, so a lot of the photos were destroyed along with letters, cards and drawings.
While the digital era has solved the problem of water damaged memories, photos rarely get printed out and end up sitting on a smartphone, flashcard or a computer hard drive and forgotten about. I would love to upload more photos to Facebook, but don't. While I know that Grandma might appreciate the six hundred similar poses of my son with different facial expressions, I know my other Facebook contacts are rolling their eyes and pretending to stab themselves with a dull kitchen knife. The "Like" pressure is just too much.  😯
Creating a digital online scrapbook site solves all these issues as it provides your memories with a home that can be shared with the family members and friends who you know will truly appreciate the updates; OR it can be maintained as a private online journal and expanded as you see fit.
As a Mom myself, I couldn't think of a better gift than a site that highlights my son's development through video, photographs, art work, funny anecdotes and celebrated milestones. I don't think there is anything that would give me more pleasure in my senior years than being able to have quick searchable access to a portal that allows me to navigate through the journey of my son's growth and hear his laughter as a baby, see his proud expression as he takes his first unaided step, watch him shoot his first hoop, graduates from school, etc. To have a timeline of his conversations as he matures and expresses newly realized dreams for the future would be a priceless gift and amazing legacy to be shared with future generations.
I would so love to have this kind of dynamic tribute site highlighting my parent's youth, rather than a few black and white photos that are shrouded in fuzzy recollections. And to be able to go back even further to my grandfather's generation, observing interaction between him and his parents? How incredible would that have been?!
Some content ideas to consider:
A "Mouse over when…" section (i.e. mouse over when you need to know how much I love you, mouse over when you don't feel beautiful, mouse over when you need a laugh, mouse over when you miss me, mouse over when you're mad at me, mouse over when you need a date night, etc.).I love this idea and it fits with the style of one of the sections in our chosen theme where you can upload an image that flips to a message when hovered over.
(https://www.pinterest.com/pin/327003622914209877/)

Do a little research and put together an accounting of fun and historic happenings that occurred the day of the recipient's birth.

(https://www.pinterest.com/pin/314196511483519688/)
What I love about YOU from A to Z. Pretty self-explanatory, but if not, here's the offline visual equivalent.
(https://www.pinterest.com/pin/195695546285016982/)
Photograph and scan any memorabilia. From birth certificates and first hair cut samples to handprint craft projects, report cards, doodles created at home and art created at school – these are all items that will inevitably wind up in a storage box one day, so why not record them digitally so that they can all be enjoyed and shared? Note that you don't need to photograph and/or scan these all in one sitting. Once you get the bones of the site set up it is easy to upload additional images whenever you or the recipient has time.
If you wanted to go that extra mile, I LOVE this idea for a milestone Birthday; invest in T-Shirts with kids/grandkids name and age at time of milestone event and take pictures of them wearing them to share with birthday recipient.

(https://www.pinterest.com/pin/217017275771016125/)
If you are a spouse putting together this website, how about a video diary of your child(ren) responding to the same question(s) every year? If you are able to record them with the same background and wearing the same clothing (in front of an off-white wall, wearing a plain blue t-shirt for example), down the line, you could morph all the video footage to chronicle the evolution of their responses as they mature. Eventually, they will be old enough to create and upload video's themselves. This gives the birthday recipient (if they are a parent) something to look forward to year after year!
There are great plugins that have been developed to enable you to create a timeline of milestones. The great thing about this is that when a "moment" occurs that you want to add to the timeline you can quickly post it (with or without a photo) in a matter of minutes.
Create an online graphic book of coupons (i.e. Redeem this coupon for an extra special breakfast in bed; This coupon entitles you to a night of leisure while the dishes get taken care of; Cash this coupon in for a relaxing foot rub… etc.) that can be individually downloaded by the Birthday girl or boy, printed out and redeemed.
Draw and/or print out graphics that have special messages for the Birthday Recipient as their focus. Create a video of you holding the images up one at a time without any background audio. Sometimes it's easier to express feelings on paper and this kind of focused messaging can be extremely powerful and very emotional!
(https://www.pinterest.com/pin/158118636894167035/)
Document an online treasure hunt that leads to a surprise offline! Use your imagination!
Create a montage of personal images with funny personal thought bubbles. This could simply be a gallery of photographs of the birthday boy or girl, their family and friends with quizzical facial expressions titled "Who Farted?". Sure to bring a smile to the birthday recipients face!
If you go to fiverr you will discover that there are some hilarious Birthday oriented gigs that sellers are willing to personalize for as little as $5. You can incorporate one or more of these into your site to keep people engaged with humor.
Create an FAQ for the Birthday recipient by having loved ones respond to personal questions in text, audio or video format.Examples:

How long have you known this person?
How did you come to know this person?
Have you ever done something really stupid or illegal with this person?
What would this person say was their most embarrassing moment?
Name something you could do/say to make this person laugh?
Describe this person in one word.
If this person had a celebrity crush, who would it be?
What song should be this person's theme song?
What is the craziest thing this person did in their youth that their parents DON'T know about?
What 'spirit animal' would best fit this person's personality?
Now that you have some great website ideas, it's time to implement them!