According to geography.about.com, if your birthday is any day except February 29, you share it with approximately 19 million people around the world. You currently share your birthday with about 859,178 people in the U.S., 3.7 million Chinese people, 94,473  Canadians and 170,684 Brits (just to name a few). That's a LOT of birthdays! And a serious amount of cake.
So why aren't there more 'fresh' custom birthday cake delivery services? You can order a custom cake weeks in advance and pick it up during the madness of coordinating everything else the day of the birthday party, but wouldn't it make sense for say- pizza joints to establish relationships with local bakeries and offer a custom birthday package?
Rocky Mountain Flatbread Co., in Vancouver BC offer pizza making parties which they host at their venues, which is a great idea. How amazing would it be though, if someone offered the option to set up this type of party in your home? And further more, how brilliant would it be if they partnered with a local bakery to deliver a custom ordered cake along with it?
It's not an easy task to co-ordinate birthday party food, beverages, favors, decorations, activities and games, gifts and logistics. No doubt any extra help in these departments (without  sending parents into bankruptcy) would be welcomed.
If you are a small business offering birthday delivery services of any nature, please contact us at [email protected] and we'll put together a directory for our site visitors. Alo, f you have a yummy dessert recipe or photo of a fun birthday cake you'd like to share, send it to us – along with any credit/blog link information and we'll create a special brag section!
In the meantime, here are some delicious looking birthday goodies we discovered that can be delivered to your doorstep: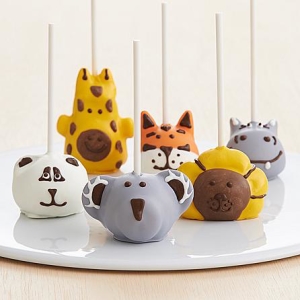 SHARI'S BERRIES
Handmade Zoo Animals Brownie Pops
Lions and tigers and bears, oh my! These wildly delicious brownie pops are sure to go over well at a kids birthday celebration. Fudgy chocolate brownie is hidden beneath amazing detail to truly capture the characteristics of each koala, hippo and giraffe. With the entire animal kingdom present kids will have fun choosing what to devour first!
Eli's Ghirardelli Chocolate Cheesecake

A chocoholic's dream come true! The smoothest chocolate cheesecake made with Ghirardelli's famous chocolate is topped with rich chocolate ganache and a dusting of imported cocoa and baked on a chocolate cookie crust to make the birthday recipient melt with each incredible bite. Pre-cut, serves 14.
.