WHAT IS A DOMAIN NAME?
A domain name is the address that appears in the top address bar of your browser and is connected to your hosting account (i.e. google.com).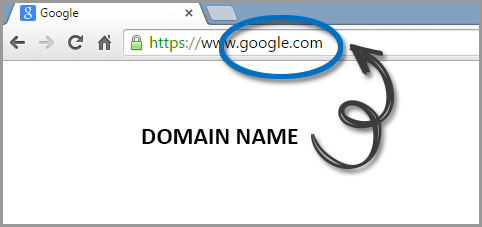 HOW DO I CHOOSE A DOMAIN NAME?
This is dependent on the type of website you are building.
Given this e-Course is focused on creating a personalized gift for someone, the domain name should be a term that is personal to the recipient. While the content you add initially will be focused on someone's Birthday, it will also be editable. So, if the recipient has been talking about wanting to start a blog about a particular area of interest, you have generously provided them with the tools to get started. In this case you may want to choose a domain name that is related to their passion, hobby or business idea.
If you think the beneficiary would modify the page to act as an online resume or utilize it more as a digital scrapbook, then recommend simply choosing their full name or a nickname (the latter if privacy is important).
Dot com extensions (i.e. johnsmith.com) are the most popular and as a result are becoming scarce. Depending on how popular the recipient's name is, you may have to hyphenate it or add their middle name.
At any time, the recipient can purchase an additional domain name of their own choosing and direct it to the webpage you have set up for them, so don't get too hung up on finding the 'perfect' domain as the expense for an additional domain is less than $20.
If you don't wish to gift the domain and hosting to the recipient and would rather present them with a link to a temporary birthday web page so they may enjoy it on their special day (and print off to keep a record) – then you may want to choose a more generic domain name such as happybirthdaytoyouonline.com. This way, you can make extended use of the framework set up and simply edit/customize the content for the next person in your calendar who has a birthday.
Maintaining the hosting account for yourself also provides the opportunity to upgrade from Bluehost's starter package (one site) to the plus package (unlimited sites) for a nominal amount. This enables you to start a blog, create a site for your small business or make an income building sites for others once you're comfortable with your skill level.
---
WHAT IS WEB HOSTING?
Web hosts are companies who provide storage space and access for websites. This is where the website you create will be housed.
WHERE CAN I PURCHASE A HOSTING ACCOUNT AND WHAT IS THE COST?
There are many options available for hosting, ranging from free hosting supported by advertising with very limited services; to premium dedicated enterprise servers running $400+ a month with an abundance of options.
With over 20 years' experience designing and developing websites for everyone from Fortune 500 Companies to small businesses I have been disappointed with more than one web host. The main features that I believe are important when choosing a hosting company are: reliability, security, ease of navigating the client interface, speed, support and value. For these reasons, the host I currently use and am happy with is Bluehost Web Hosting. The instructions in this guide detail screen snaps of Bluehost's services. You don't have to sign up with Bluehost to complete this e-course, but you will require a hosting account that supports WordPress.
PCmag.com has an article listing Dreamhost.com and Arvixe.com as their top two hosts of 2015. Bluehost is also listed in the "The Best Web Hosting Services" article. I use them for two reasons;
They include a FREE DOMAIN NAME with every hosting package.
They are an official "WordPress" recommended hosting provider and you never have to worry about your site running slow, even when there is a lot of traffic.
Just ensure that the hosting company you choose has great WordPress support, as this is the application you will be using to build your Webpage. If you would like more detailed information on Web Hosts, you can read up on Wiki.
If you would like any of the following services DONE FOR YOU, click here and message me with details of what you need assistance with:
Hosting & Domain Setup
WordPress Install and Configuration
WordPress Theme Installation
Security and Backup Setup
Content Implementation
Website Graphic Design
Plugin Install and Configuration
Contact Form Setup
IF YOU'VE CHOSEN BLUEHOST AS YOUR HOSTING PROVIDER, PLEASE FOLLOW THE INSTRUCTIONS BELOW TO SETUP YOUR ACCOUNT AND INSTALL WORDPRESS.
If you've chosen another web host, their support team should be able to walk you through installing WordPress on your chosen domain. Once you've done this move ahead to STEP 3.
Click here or type http://bit.ly/1LvTNGd to go to Bluehost.*

From the top main menu, hover over "products" and in the drop down menu that appears, click on "shared hosting". Now click on the large green "get started now" button that appears in the body of the page.

It's time to select a plan. If your intent is to gift this to someone so that they are able to implement edits and expand the site themselves then the "starter" plan is sufficient. This allows for ONE webpage.If, on the other hand you foresee creating multiple 'birthday' webpages and/or other special occasion sites that YOU retain editing control over; or/and if you think that once you've gotten your feet wet with WordPress you might like to start a blog for yourself, then I would recommend the "plus" plan, as it allows you to have unlimited domains (multiple sites) on your shared hosting account.
(NOTE: YOU SHOULD KNOW THAT WHICHEVER PLAN YOU CHOOSE NOW, YOU'RE NOT STUCK WITH IT INDEFINITELY. YOU CAN REVISE PLANS OR CANCEL SERVICE AT ANY TIME. BLUEHOST ALSO PROVIDES A 30 DAY MONEY BACK GUARANTEE. THE ONLY COST YOU WOULD ACCRUE IS THE DOMAIN NAME (APPROX. $11.99) GIVEN IT'S PROVIDED FREE FOR THE AGREED TERM WITH A PACKAGE. THE SCREEN SNAP BELOW DISPLAYS THE PLAN PRICES AT THE TIME OF THE WRITING OF THIS e-COURSE AND ARE SUBJECT TO CHANGE. )

Time to choose a domain name and enter it in the box on the left titled, "new domain". Please note that you just add the name, then choose the extension you would like (i.e. .com) from the drop down menu.If you have a parked domain that you purchased through another company you can enter it in the box on the right titled "I have a domain name" and it will be pointed at your new hosting account, however given you get a FREE domain name included with your hosting package I recommend taking advantage of it! Once you've entered your preferred domain name click on the blue "next" button.
If your domain name is available, then you can begin filling in your "account information".If your domain name is NOT available, Bluehost will make alternate suggestions that are available and similar to your preferred domain name.You can also choose different domain extensions (i.e. .net, .org, etc.). I recommend selecting a .com extension if it is available as it is the one that users primarily associate with popular websites and therefore the easiest to remember.

Package Information:

From the drop down menu, choose the type of package (i.e. Starter, Plus or Business Pro), term and monthly payment that suits your needs. The longer the term, the cheaper the monthly payment is. I signed up for the Plus plan because I have multiple sites running from one account. If you're only planning on building one site, then you don't need more than the Starter package (you can always upgrade later).

Billing Information:
Bluehost offers credit card and PayPal payment options. Enter your details, make sure you have checked that you agree to the Terms of Service and click on the green "next" button.
DID YOU KNOW?
You should only ever enter your payment information on a page that has https:// in the address field at the top of the payments page. The 's' indicates that the page is secure and your information will be encrypted.
You should receive a confirmation email from Bluehost (similar to the one pictured below) with all of your account details. It's important to keep this information in a place where it's easily accessible. I also recommend printing it out and keeping it somewhere safe!
Under the "Your Account Information" heading, you'll see a link that says "Update Your Password". Click on this link to create your login password. For security reasons I recommend you choose a strong password (15 characters comprised of upper and lower case letters, numbers and special characters). You can use a free password generator like the one here https://strongpasswordgenerator.com/ . You now have login information that will enable you to access BlueHost's main control panel.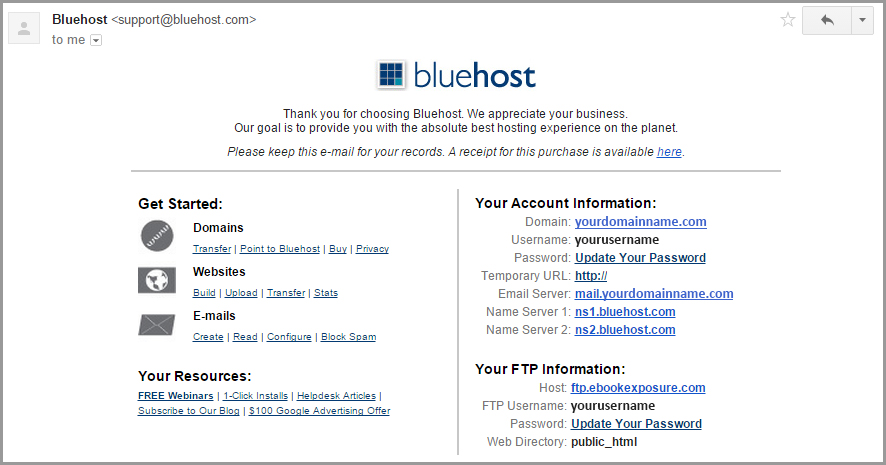 Congratulations! You have completed the first step in setting up a web page.
REMINDER: If you don't have the time or patience to deal with installing WordPress and configuring settings, installing a theme, security plugins and connecting your backup drive then you can have this piece done for you and move on to implementing content.