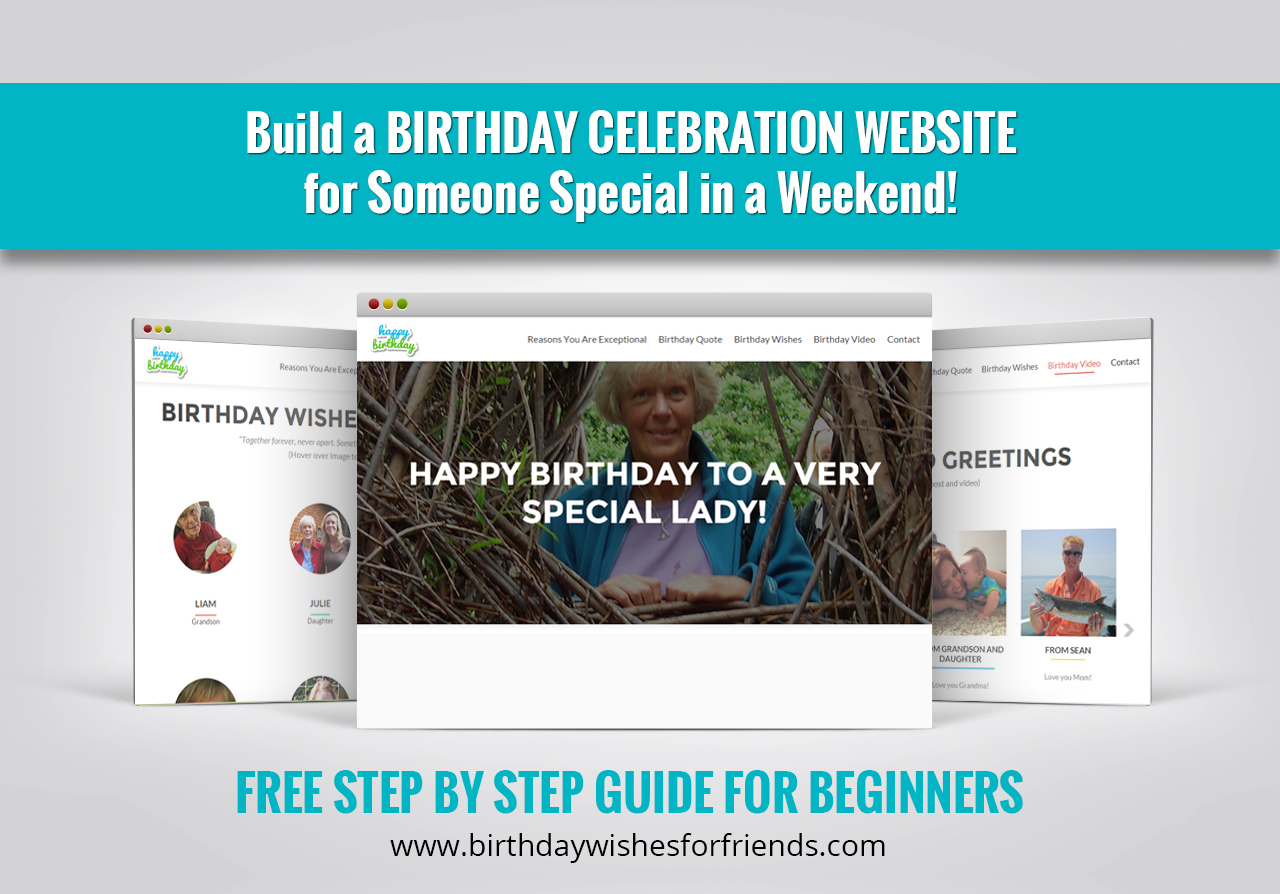 A UNIQUE PERSONALIZED BIRTHDAY GIFT IDEA
BEGINNERS STEP BY STEP GUIDE ON HOW TO CREATE A WEBSITE
Is there someone special in your life who is deserving of a one-of-a-kind gift for their Birthday?
If so, stick around and we'll walk you through all the steps involved in creating a Personalized Birthday Web Site!
---
WHO IS THIS COURSE FOR?
This course has been designed so that a complete novice can learn how to build a Web Site STEP BY STEP (no coding!).
---
WHY SHOULD I DO THIS?
You will learn a lucrative new skill, while surprising a special someone in the process!
---
WHAT IS THE COST?
This e-Course is FREE. The cost to build a website is your time + a reliable web hosting package.
The one we recommend starts at only $3.95 a month and includes a FREE domain name.
---
Welcome! Thank you for investing your time in this Beginner Step by Step e-Course Guide. My name is Julie and I'll be helping you navigate through the tasks necessary in order to create a site similar to this one http://www.customonepagewebsite.com/
I've been designing websites for over twenty years and have a passion for exploring new ideas that take advantage of some of the incredible tools at our disposal thanks to the World Wide Web.
As a result of living in three different countries my friends and family are spread out all over the globe. There are long periods of time where we go without physically seeing each other but the internet has changed the way we are able to connect.
While we use Skype and email to communicate, not everyone is comfortable navigating social media networks, which made it challenging to share all the beautiful moments that my Mom, who lives abroad, has missed with her grandson. A personalized website will provide a solution for us in the form of a password protected online digital scrapbook. Our family and friends can login and contribute video, audio and photo updates, sensitive information and comments without the prying eyes of Facebook "acquaintances".
I'm sure there are many globally situated families that would benefit from a similar application. I'm in the process of building an online course (with Beginner Step by Step video and printable guide) that breaks down exactly how to create a collaborative online digital scrapbook. If you would like to be notified when this is ready you can send me an email at [email protected] . It will be made available on Udemy. The first 500 registrants will have lifetime access to the course for free, so if you email in advance I will provide you with a coupon.
To get your feet wet, this BEGINNERS STEP BY STEP e-COURSE GUIDE is focused on creating a Birthday Celebration Web Site that can easily be migrated to become a special gift for any occasion (Father's Day, Mother's Day, Thank You, Graduation, Retirement, Get Well, Thinking of You, Wedding, Anniversary, Christmas Memories, Best Family Vacations, …etc.).
I have put this e-Course together in the hope that it provides REAL value. I've downloaded many guides promising to deliver actionable information yet falling short. My intent in putting together this tutorial is to provide an absolute novice with the tools and guidance to create results that they never imagined they were capable of. All you have to do is block off a little time to take action and follow this e-Course step by step!
Please don't feel overwhelmed by its size as I have included screen snaps for every step in order to help guide you clearly and quickly through the process of building a page. If you have difficulty along the way, please feel free to contact me at [email protected] or message me via https://www.facebook.com/CustomBirthdayWishes. I am happy to help! I'd also love it if you shared your Birthday web page creations on our Facebook fan page, and share the link to this e-Course with family and friends.
I want to note that there are some affiliate links throughout this guide. What that means is that if you use my link to purchase hosting for example, I will make a commission. Please note that if you purchase the same hosting package from the same hosting company directly, the price won't be any different. Also, I would never recommend a service or product that I don't use myself. I believe it's important to be transparent. You will still be able to achieve the same result if you choose a different hosting path, however, if you do choose to use the affiliate links provided I want you to know in advance that it is very much appreciated. That being said, enough segue!